---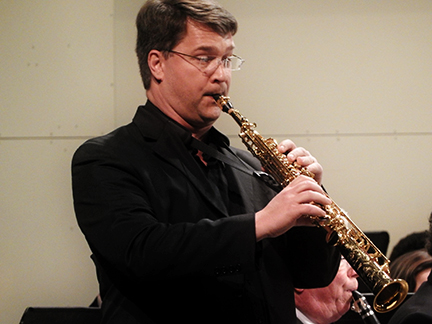 Dr. Michael Keepe lives in picturesque Coeur d'Alene, Idaho working as an educator, performer, and music publisher.
A deeply committed music educator, Mike enjoys making music accessible to people of all ages and backgrounds. For more than 30 years, Mike has taught saxophonists at all levels of expertise from beginners to advanced university students. This passion has led to the creation of the North Idaho Saxophone Academy providing private lessons and workshops throughout North Idaho. Mike also teaches through Bella Note' Music Studios in Sandpoint, ID providing additional lessons and clinics for the upper Idaho panhandle, and is on faculty for The Festival at Sandpoint Summer Youth Music Camp. His students' achievements include top chairs in All State and Regional Concert and Jazz Bands, superior ratings at Solo and Ensemble Festivals, placement in European touring ensembles, principle chairs in national honor bands, 1st place concerto competition winners, and full music scholarship awards to major universities and music conservatories throughout the United States. In addition to maintaining an active private studio, Mike has served on the faculties of the Fred Fox School of Music at the University of Arizona, Pima Community College, the Blue Lake Fine Arts Camp, and as Band Director for the Tucson Unified School District.
As a performer, Mike's goal is to promote and perpetuate the rich and diverse heritage of concert saxophone repertoire. With performances in Canada, Mexico, Australia and throughout the United States, Mike has performed in such historic venues as the Kennedy Center, The Pentagon, The Hall of The Americas, and the Filene Center at Wolf Trap, in the Washington DC area; Symphony Hall and Temple Square in Salt Lake City; the Paramount Theater in Iowa City; and the Fox Theater in Tucson, AZ.
Mike's playing is described as "sonically potent" (Tucson Citizen), "flawless and riveting . . . his interpretation thoughtful and commanding" (Composer Kip Haaheim), a "dazzling virtuoso" (Composer Pamela Decker) and "a beautiful and powerful presence" (Composer David Maslanka). Mike has performed as soloist with high school and university ensembles, at regional and national saxophone and music educator's conventions, and has recorded with the University of Arizona Wind Ensemble. In the wind band medium, Mike has performed under the batons of Lt. Col. James M. Bankhead, George Etheridge, Gregg I. Hanson, Col. Arnold Gabriel, James Jorgensen, James Keene, W. Francis McBeth, Ron Nelson, Col. Thomas Palmatier, Alfred Reed, William D. Revelli, Frank B. Wickes, Robert Winslow, and others. He has performed professionally with the The Rodriguez & Keepe Duo, Presidio Saxophone Quartet, Arizona Opera, Arizona Symphony, the Tucson Chamber Orchestra, the Catalina Chamber Orchestra, and the Tucson Symphony. As a freelance musician, Mike has recorded as a studio sideman and performed with touring artists such as Michael Feinstien, Bernadette Peters, the Cab Calloway Orchestra, The Temptations, and cover-bands like Beatlemania.
Mike also champions the creation and performance of new repertoire. He has premiered dozens of works by composers from across the globe enjoying collaborations with renowned composers such as Pamela Decker, James Demars, Bryan Kip Haaheim, Drew Krause, Graham Lynch, David Maslanka, Lennie Niehaus, Clement Ried, Lewis Spratlan, Andersen Viana, Jay Vosk, and Judith Lang Zaimont. This commitment to new music has led him to create Keepe Publishing House, promoting the finest of today's concert saxophone repertoire. The company now represents Pulitzer Prize and Emmy Award winning composers, as well as many of today's rising talents.
In addition to the teaching credentials mentioned above, Mike has also served as Lecturer of Entrepreneurship for the McGuire Center for Entrepreneurship, and The Dorrance Scholars Program at the University of Arizona. His involvement in the music industry as a teacher, performer, record producer and entrepreneur, has helped to foster relationships with performers, composers, and entertainment industry executives around the United States and abroad. He has published critical reviews of recordings, historical collections, and scholastic texts, for the peer reviewed journals of the North American Saxophone Alliance (Saxophone Symposium) and the Music & Entertainment Industry Educator's Association. His experience as a concert artist and in the music business provides him with a unique perspective into the industry, creating demand as guest lecturer at universities, leadership conferences, and music festivals. His students in Entrepreneurship and Music Industry courses have received internships in top businesses in their fields, and have created successful business start-ups such as record labels, band management companies, and online educational software companies.
Dr. Keepe received a Doctorate in Saxophone Performance with a Minor in Music Business at the University of Arizona where he served as Graduate Teaching Assistant for the Saxophone Studio and the Camerata Career Development programs. He was the recipient of the Distinguished Graduate Student Award, the School of Music's highest award, and the coveted tri-university Northern Piper Trust Award for his dissertation entitled The Hollywood Saxophone Quartet: Its History and Contribution to Saxophone Quartet Performance in the United States. Mike is a Performing Artist and Clinician for the Conn-Selmer Company performing on Selmer Paris saxophones exclusively. He can be heard on the Albany, AUR, Coseismic, and Viva Nostalgie recording labels.