---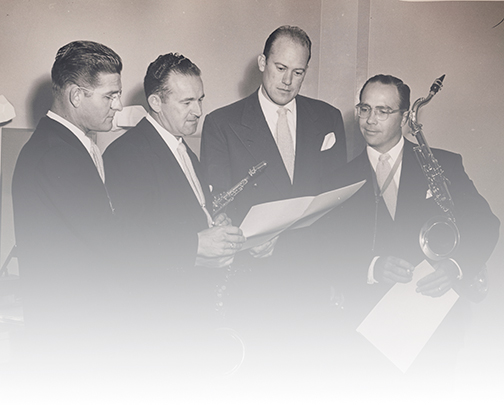 The Hollywood Saxophone Quartet:
Its History and Contributions to Saxophone Quartet Performance in the United States
Michael Keepe has done a miraculous job doing his dissertation on the history of the Hollywood Saxophone Quartet. Having written music for their group and having them recorded was a marvelous experience for me. It is very interesting to read how he goes back to the early sax quartets that played in the circus bands, John Phillip Sousa's band and mentioning many sax quartets in the United States and throughout the world who are performing to this day. This dissertation is a must-read for all saxophone players, composers, and musicians no matter what instrument they play.
—Lennie Niehaus
Legendary Saxophonist and Hollywood Composer
Congratulations on a fine work of scholarship. The Hollywood Saxophone Quartet is an important part of saxophone history and should be of interest to a wide audience.
—Late Dr. Thomas Liley
Director of Scholarly Publications, North American Saxophone Alliance
The Hollywood Saxophone Quartet was comprised of outstanding musicians who were devoted to exploring the many wonderful facets of their instruments. When one views the dates of their recordings, the quality of the playing and the arrangements, and the fact that they also played and recorded classical repertoire -- they were ahead of their time! . . . recognition of their superb accomplishments is long overdue.
—Eugene Rousseau
Professor of Saxophone, University of Minnesota
Links:
The Official HSQ website: www.hollywoodsaxophonequartet.com
Please follow this link to order an official bound copy from ProQuest:
Recordings:
There have been many recordings released featuring the music of the HSQ including a re-release of the HSQ's two jazz albums. Links have been provided when possible to view and/or purchase. I will continue to update this list as I find more. Please email me at mike.keepe (at) gmail.com if you have or know of albums that should be added.
The HSQ members can be heard on these recordings as well!
New Orbits in Sound: Lyle "Spud" Murphy (features Russ Cheever, Morrie Crawford, Bill Ulyate)
Gone With Woodwinds: Lyle "Spud" Murphy (features Russ Cheever, Jack Dumont)
Four Saxophones in Twelve Tones: Lyle "Spud Murphy (features Russ Cheever) (Gene Norman Presents: GNP vol.9)
Crime In The Streets: Franz Waxman (features Jack Dumont)
West Side Story (features Jack Dumont)
Best of Pete Fountain (features Russ Cheever, Jack Dumont, Bill Ulyate)
Ballads, Bounce & Bivona LP: Gus Bivona (Features Russ Cheever, Jack Dumont, Morrie Crawford, Bill Ulyate)
Anton Webern: The Complete Music, Recorded under the Direction of Robert Craft (features Bill Ulyate performing Quartet Op. 22) (Columbia K4L-232)