Listen to excerpts of In Arcadia by Graham Lynch, recorded by the Rodriguez & Keepe Duo
Upcoming Events:


March 9, 2019
Idaho Region I Solo & Ensemble Contest
Adjudicator
Post Falls High School
---
March 13-14 2019
District I Idaho High School Music Festival
Adjudicator/Clinician (Band)
North Idaho Community College
---
June 24-27, 2019
Festival at Sandpoint Summer Music Camp
Chamber Band, Saxophone

Bulletin Board
Now accepting motivated students for the 2018-19 school year. Individual, group, and online lessons available. Please go to the NISA tab for more information.
Download and print form: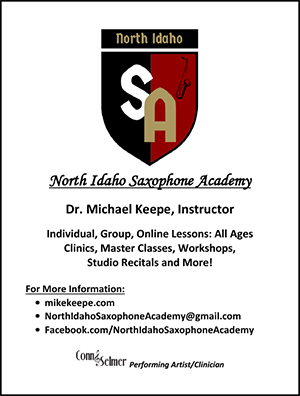 ---
CONGRATULATIONS!!!
to NISA students Dillon for making Allstate Band, Issac for making Allstate Jazz Band, and Ryan for being selected as the piano accompanist for the Allstate Jazz Choir. So proud of these talented young musicians.
---
Mike will be working with Brazilian composer Andersen Viana his "LONELY HEART" project. It will feature 13 compositions for a full concert and recording.
---
Mike was recently featured on The Modern Saxophonist podcast. The interview discusses his dissertation research into the history of the Hollywood Saxophone Quartet.
Please Click Here For More Information
:
---
Mike has recently been featured in David Culter's new bookThe Savvy Music Teacher: Blueprint for Maximizing Income & Impact